The Launch Place Recognized as an Active Investor by ARI
April 27, 2018
Press Release from the Angel Resource Institute
2017 HALO Report Released Analyzing Angel Investment Activities in U.S.
The Angel Resource Institute (ARI) and Florida Atlantic University's Tech Runway have released the 2017 HALO Report™ analyzing investment activities of angel investors in the U.S.
The report also notes data in many other countries and hints at more global perspectives to come. The HALO Report was generated from deal data submitted by angel investors, with a focus on the analysis of investments by angel groups. The HALO Report does not reveal individual investors' identities and does not reveal the terms of any specific investment, but instead aggregates all data for analytical insights.
This is the seventh annual release of the HALO Report, whose benchmarks are closely followed by the angel investor and venture capital communities alike. ARI has also produced several "Returns Studies" in concert with Rob Wiltbank, Ph.D., CEO of Galois. ARI is well versed in analyzing investment performance by angel investors in structured groups and provides insight into the asset class as a whole.
The 2017 HALO Report notes a continuing trend of geographic dispersion of angel groups investing outside of their headquarters states; the sustained (though narrowing) dominance of both software and healthcare IT as angels' preferred investment sector; an increased ratio of initial investments versus follow-on financing rounds; an increase in the number of deals funded where female entrepreneur(s) also have founder status; consistency in deal structures, with a noted increase in the use of convertible notes for first-time investments; and a slight decline in the valuations companies received from angel groups.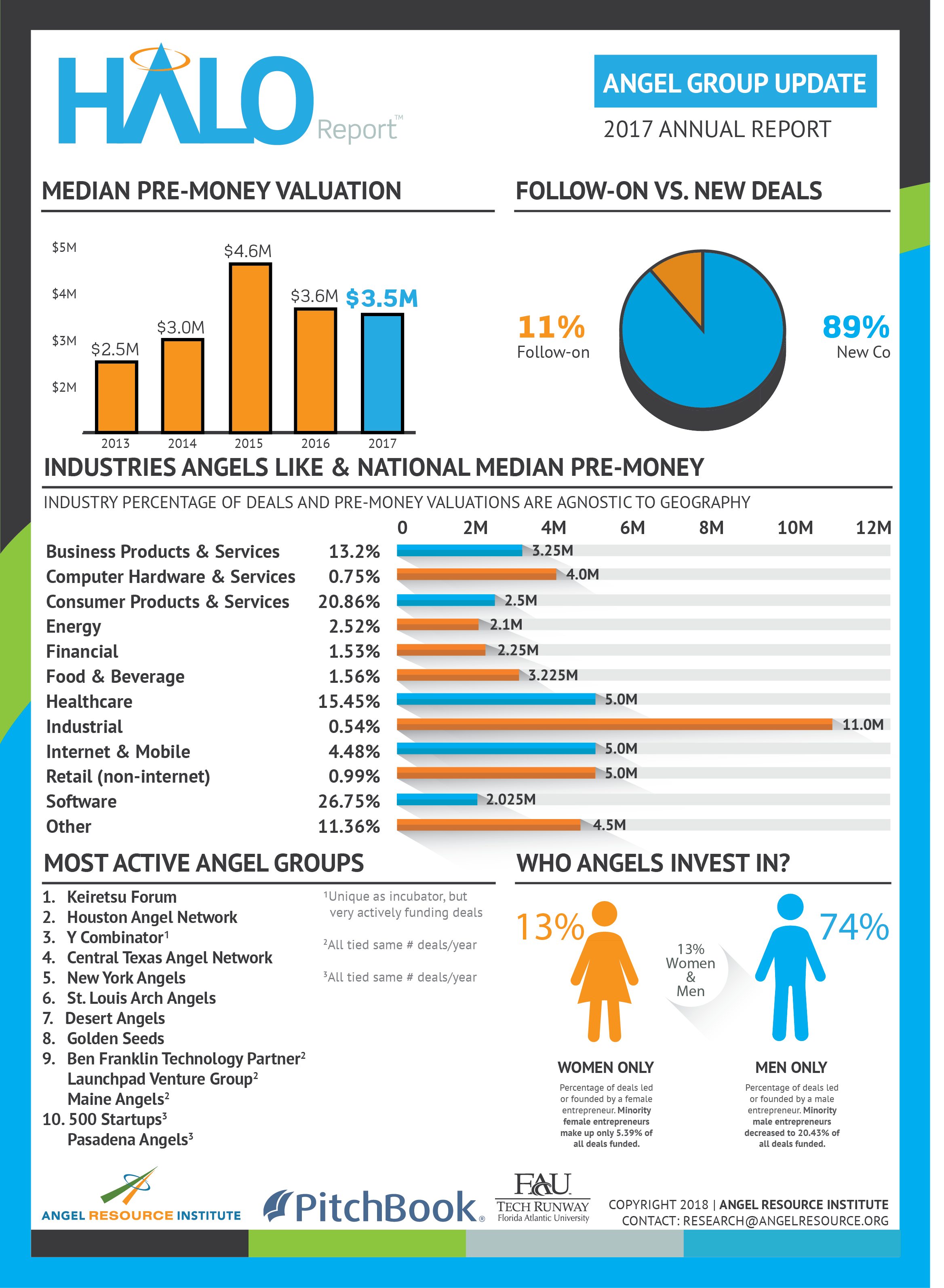 This was the first time that ARI and FAU Tech Runway have collaborated on producing the HALO Report.
"Working with researchers and staff from Florida Atlantic University provided an analytical depth and rigor to the HALO Report that was impressive," said Gwen Edwards, chair of ARI. "ARI is thrilled to be partnering with FAU in setting the research bar ever higher, to the benefit of both angel investors and entrepreneurs alike,"
Rebel Cole, Ph.D., Kaye Family Endowed Professor in Finance at FAU's College of Business, said: "The ability to expand and extend our findings in future releases of the HALO Report on angel investment activity and on the profile of the entrepreneurs they back financially should break new ground in our understanding of this critical sector of the innovation economy."
Kevin Cox, Ph.D., assistant director of FAU's Adams Center for Entrepreneurship, said ARI has amassed an impressive amount of data on early-stage, angel, and angel group investment activity.
"Given the private nature of these transactions, available data is generally and historically scarce," Cox said. "Undoubtedly, the data and our partnership will yield new and original insights into the understudied and often misunderstood context of angel investing."
Rhys L. Williams, managing director of FAU Tech Runway and ARI trustee, said the quality of the partnership between ARI and FAU producing this year's HALO Report provides an important tool for angel investors and entrepreneurs alike.
"We are exceptionally grateful to the staff, researchers, and board members of both organizations, who labored selflessly to produce quality research in such an important area," Williams said. He added special thanks is due to Troy Knauss, ARI trustee and Assistant Professor of Entrepreneurship at High Point University, who continues to be a critical source of continuity in methodology and insights, and also to Pinar Yildirim, investor relations and research administrator for FAU Tech Runway, for research and production support.
For trends and analysis, download a free copy of the HALO Report at www.angelresource.org.
ABOUT FLORIDA ATLANTIC UNIVERSITY
Florida Atlantic University, established in 1961, officially opened its doors in 1964 as the fifth public university in Florida. Today, the University, with an annual economic impact of $6.3 billion, serves more than 30,000 undergraduate and graduate students at sites throughout its six-county service region in southeast Florida. FAU's world-class teaching and research faculty serves students through 10 colleges: the Dorothy F. Schmidt College of Arts and Letters, the College of Business, the College for Design and Social Inquiry, the College of Education, the College of Engineering and Computer Science, the Graduate College, the Harriet L. Wilkes Honors College, the Charles E. Schmidt College of Medicine, the Christine E. Lynn College of Nursing and the Charles E. Schmidt College of Science. FAU is ranked as a High Research Activity institution by the Carnegie Foundation for the Advancement of Teaching. The University is placing special focus on the rapid development of critical areas that form the basis of its strategic plan: Healthy aging, biotech, coastal and marine issues, neuroscience, regenerative medicine, informatics, lifespan and the environment. These areas provide opportunities for faculty and students to build upon FAU's existing strengths in research and scholarship. For more information, visit www.fau.edu.
ABOUT FAU TECH RUNWAY
FAU Tech Runway is a public-private partnership founded in 2014 supported by Florida Atlantic University's Division of Research. It serves as a hub to accelerate early-stage technology ventures and incubate startup companies. The program operates a 28,000-square-foot collaborative working space that provides entrepreneurs with a complete ecosystem in which to office, educate, mentor and fund their companies across the full spectrum of early-stage development.
ABOUT THE ANGEL RESOURCE INSTITUTE
The Angel Resource Institute (ARI) is a charitable organization devoted to increasing the effectiveness and availability of financial and mentor capital to entrepreneurs. The organization provides education, training, and information on best practices related to the earliest stages of angel investing and new venture development. Through its core competencies of research, data collection and analysis, ARI develops educational workshops, white papers, and toolkits for angel investors, entrepreneurs, and the entire startup community. The founders of the Angel Resource Institute include leading angel investors and entrepreneurs in collaboration with the Ewing Marion Kauffman Foundation.
Download Full Report